One of the most ancient craft there is. And probably the most amazing thing about it is that it is a perfect match between practicality and creativity.
And I suppose every country in the world, I can not even think of any exceptions , has a lot of native works of art - national folk crafts, stories and rare finds that have something to do with weaving. With this in mind, one can call it the mother of arts.
The concentration, calmness and that silent strenght of weavers has always azed me and therefore, with having started a business from textile, and being a child of curiosity, I had to figure this amazing craft out.
So here I am in a little town called Odemira, in Portugal, with the help of the Erasmus programme for Young Entreprenuers. It is my third day here and the scene is set for figuring out the mistery of weaving.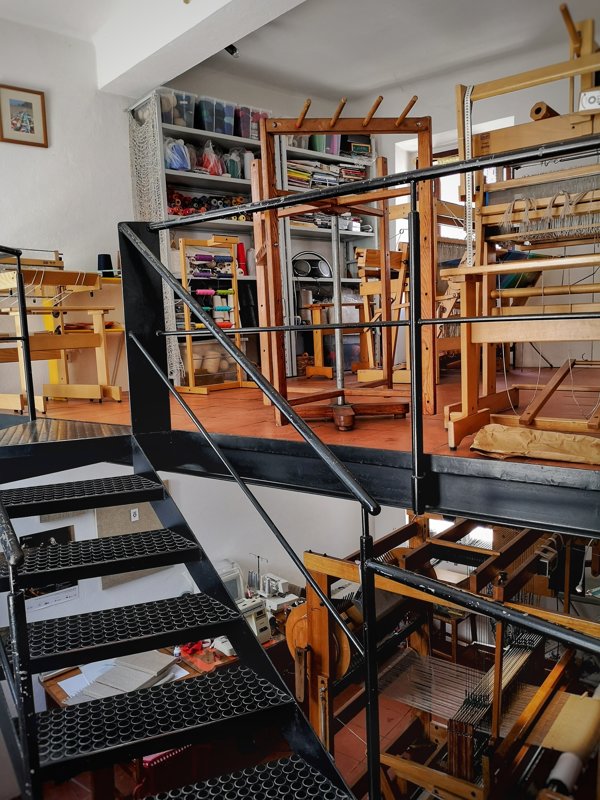 The strangest thing about this whole situation is that I do feel at the right place at the right time, a really peculiar feeling and one that is quite rare for me. I meet these amazing people and involve in new experiences and for all of this I owe an enourmous thanks to Helena Loermans (Handwoven textiles). From my point of view, she is one of the nicest people I have ever met, I feel like I have known her for years. Not only that - she makes such beautiful things in her study, that every morning I enter it I feel amazed. And she is the one that agreed to take me in under her wing and show me the world of weaving. And for that I am forever grateful.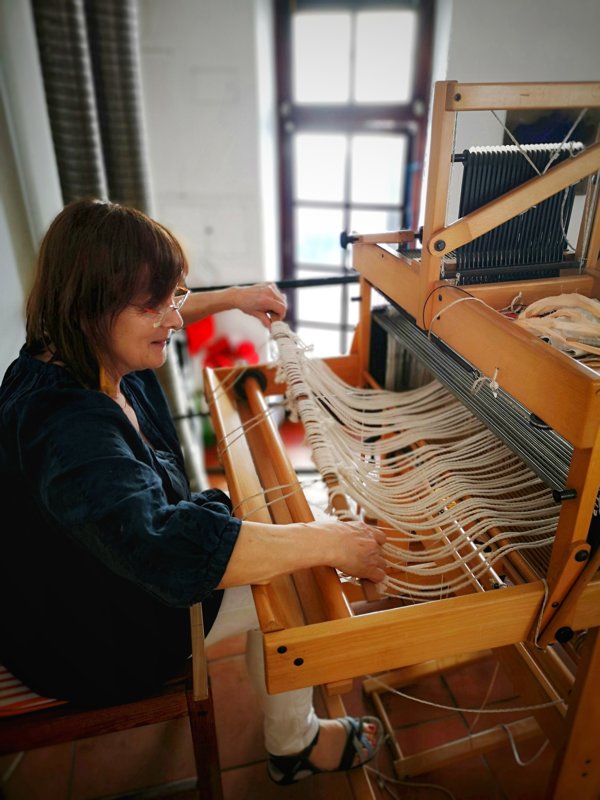 So, this wondrous craft requeries a lot of knowledge, patience and the weaving itself takes just the small part of the whole journey of textile.
First, and in my opinion, the hardest part of the whole process is the planning part. The part where you have to think of the pattern and then you have to put it all on paper and then the really crazy part begins where you have to count where, how and when your yarn should cross another yarn, and if it will be strong enough and will it make the pattern that you want. I am currently studying that part because it is still a dark forest for me but the theory is that you have a warp on the loom and the weft crosses the loom through heddle eyes (dramatic ha?) and weaving in itself is just a pair of threads crossing each other, but then you have things like shafts and heddle and this is where everything becomes really complicated. But in short, with moving the shafts in different numbers we create a pattern. So weaving itself is the easiest part, it is like meditation, yet you have to be really in the moment to not make a mistake.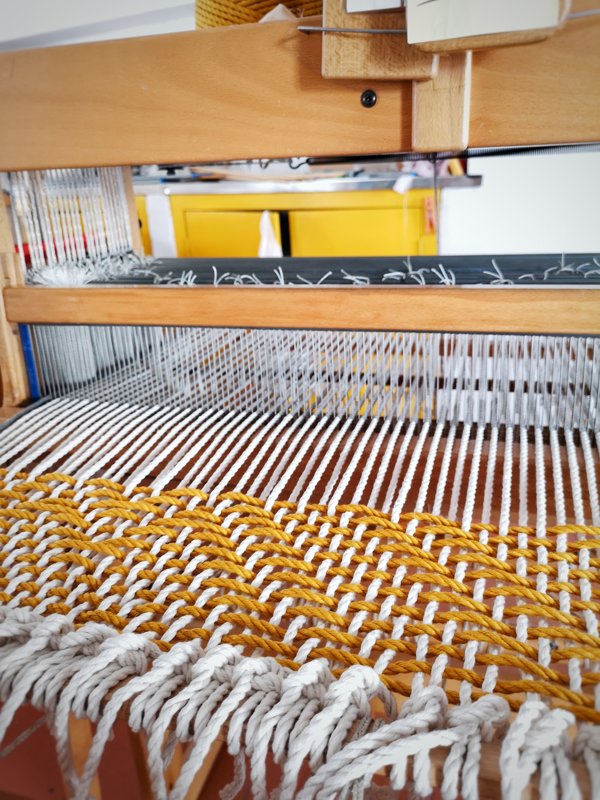 But after all the hard work, when I did my first textile cloth I knew that weaving has to be in my life in one form or another. So I hope during this two month experience Helena and I can really put our heads together and come up with a project or series that would blow you away. And I am most certain that we will.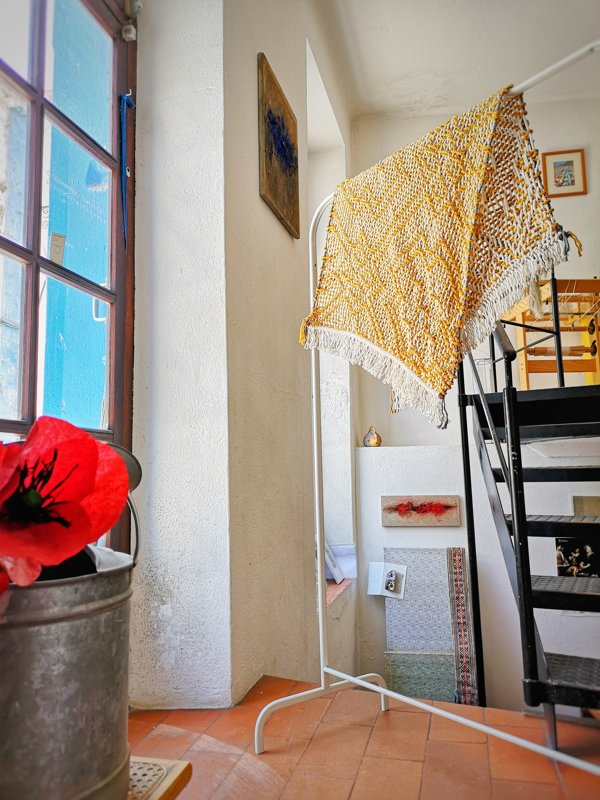 If you want to see our story in pictures just follow @helenaloermans (Handwoven textiles) and @rezgupinkles and please reach out if you have any ideas, questions or just want to say hello.
One day it just happens. You realize that your current life does not satisfy you, although everything looks good, family, friends, work, home. But still something's squeezing your heart when you think about what are you doing with your life. You just get up, go to work in a snooze mode, and all day you just make plans what will you do when you will return home. But when you do you just don't have any energy ...
For it's very hard to spend all day in some other women's shoes, because when you come back home it's really hard to get out of them. And then the thought hits you. You can stand up for yourself. Is it really that hard to earn that small amount of money that the others are paying you? But you need an idea...
And then your husband doesn't buy you a lamp.
You go to the store with your almost minimal salary and look at the prices of the lamps. It's almost half of your salary. I would probably still buy it, because it is very beautiful. But my husband is quite stubborn on the question. And then, a person starts to think how to bypass the system here, maybe go through your parents cellar, but that stuff is still not fashionable. Maybe buy something that has already been used. But there's nothing good on the internet. And then you DIY lamp in the browser and there's some interesting stuff. And you your research.
I loved interior design my whole life, and I endorse it when I can. I check on the tendencies now and then. And here comes the natural pieces in interiors. Simple, warm and beautiful. And one day my relatives comes for a visit and gives us some ropes that they are making. And I just fell in love with it. The natural cotton ropes were so ... pure and soft and beautiful. And then I begin to think what can I do with it and how can I cover my whole worl with it. And then I go back to my search and write "DIY lamp from rope" and then the world opens, then I start creating a couple of boards on Pinterest.
And then one evening you return home and think to yourself that it's time to take action, but you've invited some guests over it's not polite and stuff. But then something breaks inside. So when you're sitting with your friends you bring that rope, find the longest electrical cord you can find (not avoiding my husbands help with the electricity), make huge pot of tea, turn on Spidermen and just start. And you do it. And still, friends do not feel unapreciated, though you are not sitting at the table, but on the ground. The puppy is also cheerful, he chases the yarn from time like a huge cat that he is. And later that night you hang up the first lamp, and friends take pictures and praise you. And you smile. You smile like you haven't smilled in a million years. And some part of your mask drops.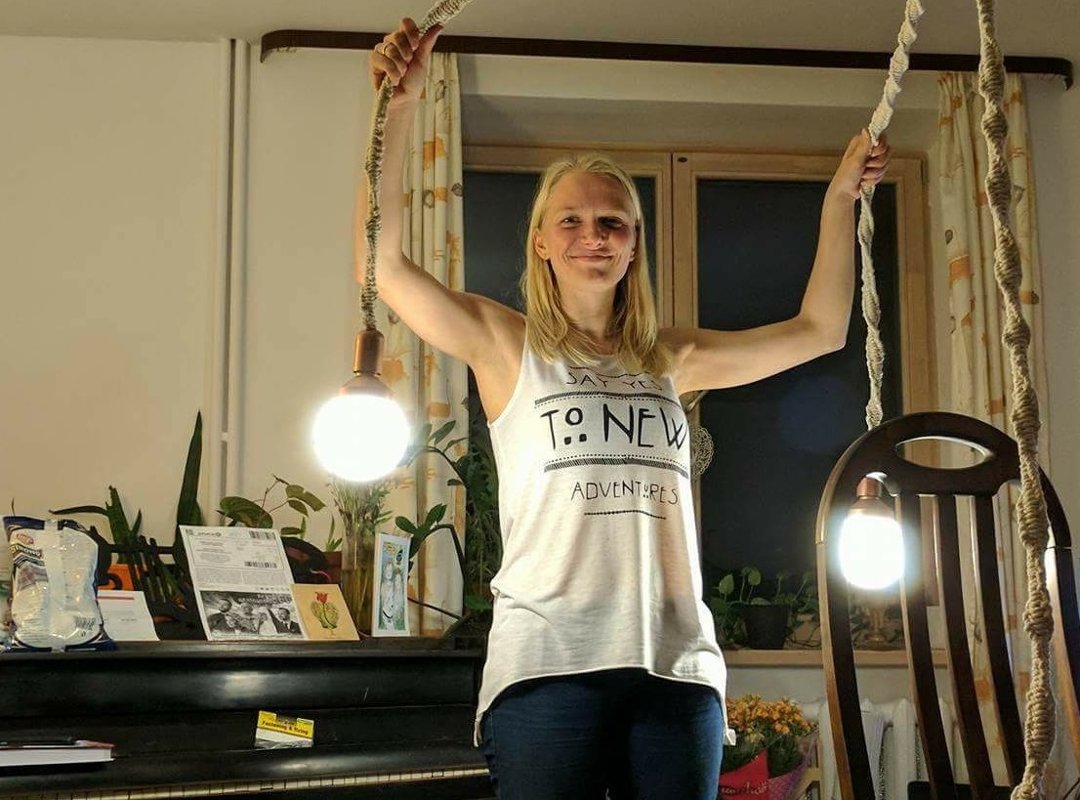 And then you go back to work again and feel like the mask is gluing itself back to your face again every day. And then, one colleague, says, "Are you really in your place in life?", you say "Maybe" when the answer inside is just screaming. You go home and talk to your husband. And he agrees that you should leave your work and start something on your own, you would be happier he sais, you just need the idea. Then you talk about it with your parents and the world collapses, becouse they don't understand you. They do not support you. You come back home, shed a couple of tears then go to your parents the second time and you don't ask you just say how it's going to be. And you start.
You quit your job. And then you're free. And you start to over think, maybe you've done the wrong thing. But you do some yoga, some horse riding, some meditation and you start believing again. And you begin.
And you fail. You sit in a fair for three days and sell absolutely nothing. Not a single thing. I cry a bit more when I come home and keep on going. The last day of the fair I pick myself up and write new plans, new goals, new ideas. And just hope that nobody during the holidays will ask you how has it been. But they do. They ask. But you know after the tenth time you're just not ashamed anymore. Just a couple of people succeed right away, you should give yourself time.
And I do. I do more. I think more. And after three months I sell the first product. And it's a wonderful feeling. And you put even more of yourself. Because I don't want to wear a mask again, I just can't anymore.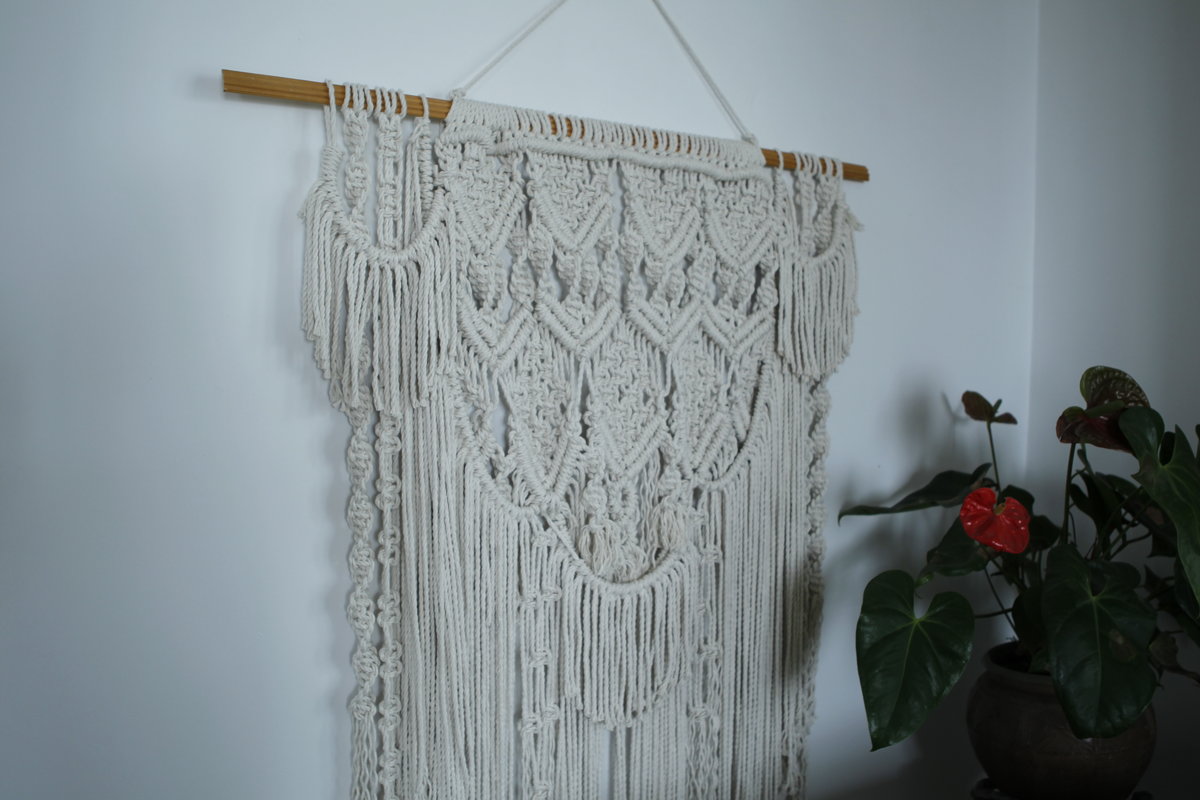 And that's how more of me looks like. Thank you very much if you have read this through out. I thought I would just write some funny light story, but I myself have never wanted to believe in those plastic marketing rules. I want to believe in human connection. And I hope that it will succeed in this creative path. And I hope you will let me.
Yours sincerely,
Deimantė Meilutė-Ganusauskienė